In the popup window, you'll see a box labeled Upload Image beneath the text box. After drafting your review, click the upload box and select the image files you'd like to upload.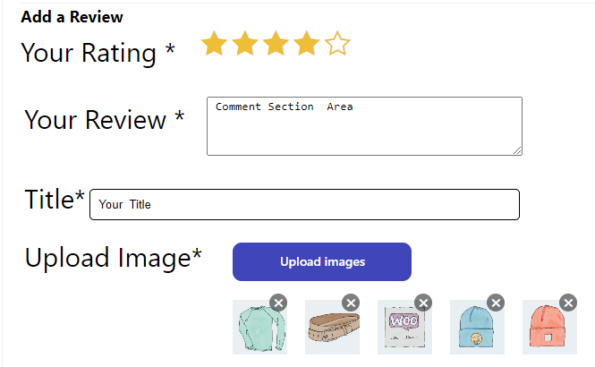 A slider is a web design element that displays multiple images or content items in a rotating or sliding manner. It's commonly used to showcase featured products, images, or important information on websites. Sliders can improve visual appeal and engagement by cycling through content in an eye-catching and dynamic way.
The popup was a seamless addition to the website, offering a non-intrusive and informative experience. Its design was visually appealing, and it effectively conveyed the intended message without disrupting user navigation. Overall, the popup enhanced user engagement and provided valuable information without being obtrusive.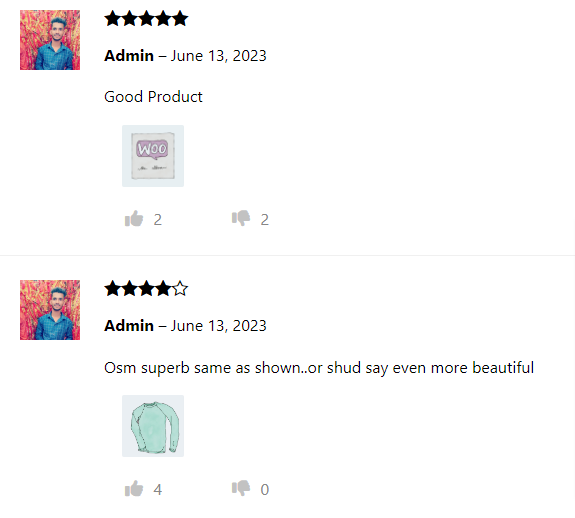 The "Like & Dislike" WordPress plugin is a user engagement tool that adds a simple and intuitive rating system to WordPress websites. It allows visitors to express their preference for content with a "Like" or "Dislike" click, enhancing user interaction and feedback on posts, comments, or product.
Additonal properties for Review
To enhance your review feature on your WordPress website, you can consider adding additional properties or elements to make your reviews more informative and engaging. Here are additional properties use Rate & Review Pro Plugin.
User Profile: Display the user's profile picture, username, and a link to their profile page. This adds credibility and encourages responsible reviews.

Overall Rating: In addition to individual ratings for specific criteria, include an overall rating that summarizes the user's overall impression of the product or content.

Date of Review: Display the date when the review was submitted. This helps users gauge the relevancy of the review.

Helpful Votes: Allow other users to upvote or downvote reviews, and display the number of helpful votes each review has received.

Comments: Enable users to leave comments on reviews, encouraging discussions and providing additional insights.

Images and Videos: Allow users to upload images or videos related to their review to provide visual context.

Average Ratings: Display the average ratings for different criteria and the overall average rating for all reviews.

Custom Fields: Depending on your specific niche or industry, you can add custom fields for unique review properties. For example, for a recipe review, you could include cooking time or serving size.
Some of the Features that are gonna blow your mind off
Rate & Review pro plugin very flexible and can be easily overridden. Easily extend Rate & Review prousing actions and filters. Find out more about
By offering multiple rating design options, you cater to a broader range of user preferences and enhance the user experience on your website. Ensure that the chosen rating designs are easy to use and clearly convey the user's sentiment.
Questions and answers are search engine optimized, with schema.org markup.
Speed and performance are critical aspects of website optimization. Efficient coding, content delivery, server resources, and caching help ensure fast loading times, better user experiences, and higher search engine rankings.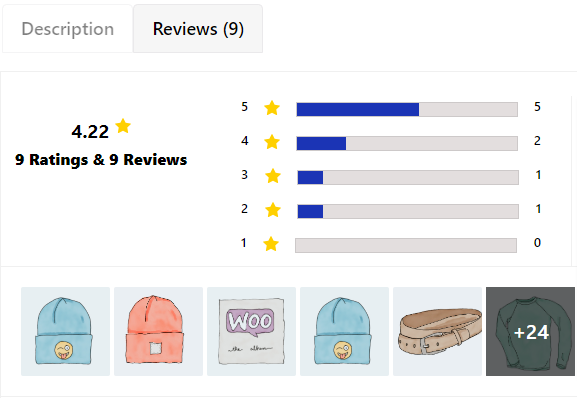 A clean and Ajaxified user interface (UI) offers a seamless and responsive web experience. It minimizes clutter, streamlines navigation, and uses asynchronous JavaScript and XML (Ajax) to update content dynamically without refreshing the entire page. This enhances user interaction, making websites more user-friendly and efficient.
Now that you have read all the tid-bits, get started today!